Products

The IP00C331 is a true 4K60Hz up/down scaler with minimalinterface requirements.
It features 4 input ports up to 4K60Hz each, and 2 output ports up to 4K60Hz each.
This allows it to take up to four 4K60Hz sources and scale each one independently to any size and position on a composite 4K60Hz output.
Its internal architecture consists of 8 up/down scaler cores plus 4 de-interlacer cores to support interlaced input on each input port.
The IP00C331 also features many other high-performance functions such as 90-degree rotation, mirror-flip, PQ and HLG HDR systems (10-bit), and 3DLUT for color management.
It makes use of the high-speed serial V-by-One® bus interface which is only 8 lanes in order to minimize board footprint.
The IP00C331 can be used as a single or dual 4K60Hz scaler, or as a 4K display controller chip supporting multiple inputs.
Input(4K60Hz 4-port)
RGB 30bit / YUV4:4:4 30bit / YUV4:2:0 30bit / YUV4:2:2 20bit / YUV4:2:2 10bit (BT656)
@V-by-One® 4Gbps, 8 lane 2-port
@LV-CMOS 166MHz, supporting dual(EVEN/ODD) and DDR inputs 4-port

4K60Hz input up to 4-port

4K120Hz input supported
Output (4K60Hz 2-port)
RGB 30bit / YUV4:4:4 30bit / YUV4:2:2 20bit / YUV4:2:2 10bit (BT656)
@V-by-One® 4Gbps, 8 lane 2-port

4K60Hz dual output (all the time, fully independent)

4K120Hz output supported
Input & Output
Horizontal sync signal 16,384 pixels(max)@1ch

Horizontal image active area 2,176 pixels(max)@1ch
External Memory
DDR3-SDRAM 64bit PC1600 (4G/2G/1G x16) x4
External/Internal Sync
Output sync is compatible only with internal signal

Independent sync mode is available at each input & output port
Input/Output Sync/Asynchronous Behavior
Frame rate conversion

Tearing protection

External force synchronization

Genlock
De-Interlacer
Motion adaptive filter based on Y, U, V, YUV 4:2:2

All major cadences supported

Low latency processing(4-port)
Scaler
Zoom/shrink 6-symbol programable FIR filter(10bit/pixel)

Embedded ROM(64set)
Noise Reduction
3DNR(H,V,Temporal)

MPEG-NR(Mosquito/Block)

Chroma error filter
Bit Map OSD
256 colors/High color OSD(64K colors)

Embedded font engine(65536 words)

Blinking and semi-transparent(4 colors OSD)

90-degree rotation, OSD scroll

Serial flash to bitmap
Image Quality Control
Color management(full color gamma)

3DLUT(4K60Hz 2-input supported)

Uniformity correction(by region and per-pixel)

Bias/Gain/Gamma correction

H edge enhancement(9symbol), V edge enhancement(5 to 9symbol)

Dithering for 10 or 8 bit output
Image Manipulation
Mirror/flip/90-degree image

Vertical keystone

4-ch overlay, alpha blending, color key blending
CPU Interface
8-bit parallel/4-wire serial
xvYCC/Bt.2020
HDR Standard
SMPTE ST2084(PQ) and HLG both methods supported(RGB 10-bit each)
Power Supply
Package
684-pin BGA(0.8mm pitch), 27mmx27mm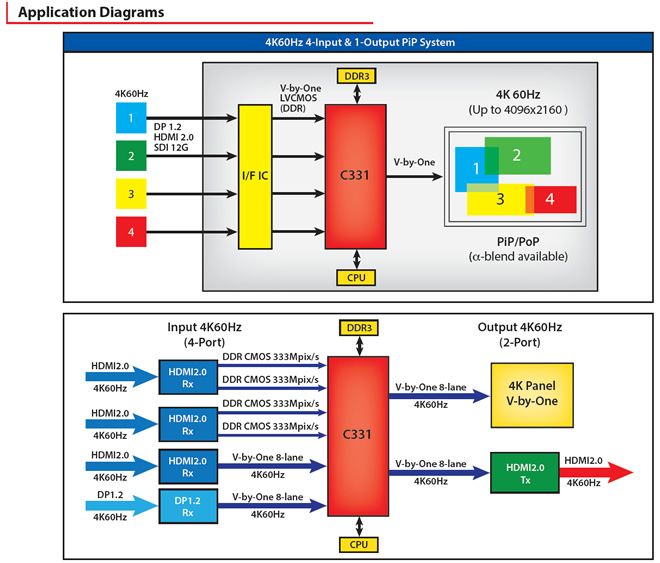 "V-by-One®" is trademark of Thine Electronics, Inc.